The Bebecar Pack Wei is a ultra lightweight stroller bundle, that includes compact folding chassis, detachable and reversible seat unit, lie flat car seat and raincover.
Pack Wei – ultra lightweight stroller from Bebecar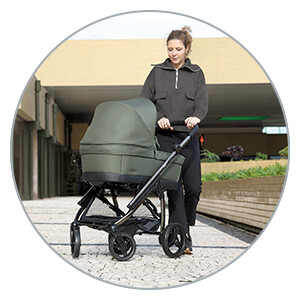 Suitable from birth up to 22 kg, the Bebecar Wei pushchair is based on narrow 52 cm wide chassis with all 4 wheel suspension which makes it easy to ride through uneven terrains and navigate in narrow passages. The Wei frame is equipped with height-adjustable handle with a leatherette grip, that makes the stroller very comfortable for hold and steer.
---
Super comfy carrycot with Soft fresh mattress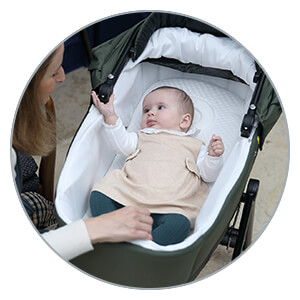 This Wei bundle includes ultra-lightweight carrycot, that comes with SoftFresh Mattress made of Tencel, Viscoelastic Coolgraph and a 3D fresh mesh material. This unique combination of fabrics provides ultra comfortable, hypoallergenic and breathable spot with antibacterial and thermoregulating properties. It features a specially shaped circular cavity that perfectly adapts to baby's head reducing the risk of postural plagiocephaly. Its removable cotton/Tencel liner is very delicate to baby's skin and can be easily removed for washing. A large carrycot UPF50+hood with sun visor and mesh ventilation window ensures great protection from weather elements. The carrycot also features four position reclining backrest, which offers better position for babies babies suffering from reflux.
---
Multifunctional seat unit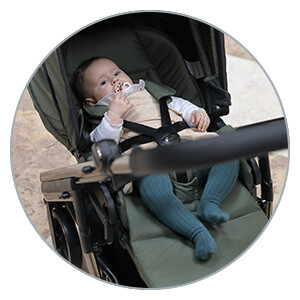 The Wei stroller comes with detachable and foldable seat unit, which can be used in parent facing or world facing position. It comes features adjustable backrest with 4 recline positions and two-position footrest. The large expandable UPF50 hood ensures excellent protection from sun radiation. A soft padded interior provides maximum comfort, while the five-point harness and leatherette bumper bar ensures child's safety.
---
Innovative folding system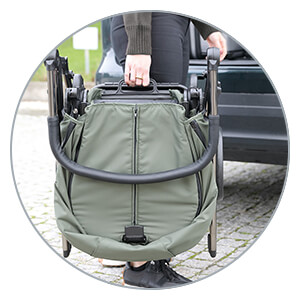 The Bebecar Wei features compact folding system, which collapses the stroller with the seat unit attached to compact and convenient self-standing position. In addition, the Wei is equipped with special handle that make it easy to carry and transport.
---
Easy Maxi Lie-Flat car seat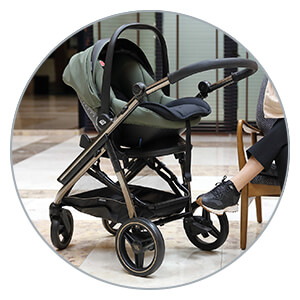 This Bebecar Pack comes with Easy Maxi LF infant car seat characterised by its widely reclining backrest (158º) and extendable footrest, which make it suitable for sleeping when fitted onto your Bebecar stroller frame. The seat features side impact protection in the head wing and hip areas and includes additional head and seat cushions for use with your newborn, giving additional support and comfort. From birth until the baby has reached 60cm in length (usually about three months) the Easymaxi LF car seat MUST be used in the lie-flat position with special newborn cushion included when fitted in the car. Once the baby has reached 60cm the padded cushion should be removed from the car seat as shown in the attached leaflet. The carrier can be fitted into a car with seatbelts or an additional base (sold separately).